Permit-Ready Plans:
Building Design with the Builder in Mind
Sunrise Design Services has been producing permit-ready plan packages for over 20 years. In that time we have worked closely with plans reviewers, inspectors, contractors & developers to create a standardized plan format that provides an accurate, code-compliant set of plans that building officials can reliably approve and builders can profit from. We take great pride in our excellent approval rate in many jurisdictions throughout the Pacific Northwest.
All plans are provided "permit-ready" in compliance with applicable state and/or county
code requirements and designed to the projects specific site conditions & criteria using
Prescriptive Design methods.
Plans include all structural details & specifications for approval & construction;
Elevations
Floor Plan Views
Foundation Plan
Cross-Section[s]
Structural Details, excluding Framing Plans,
Concrete Footings & Pier Pads
Beams, Headers & Columns
Joists & Rafters
A Typical Set of Permit-Ready Plans: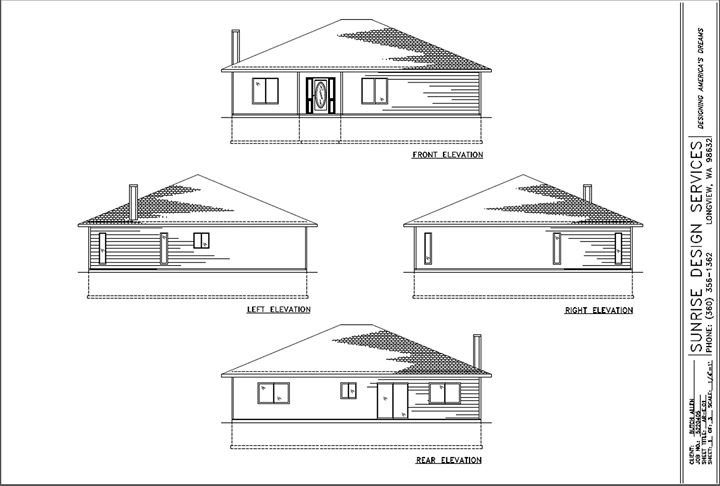 Typical Elevation Plan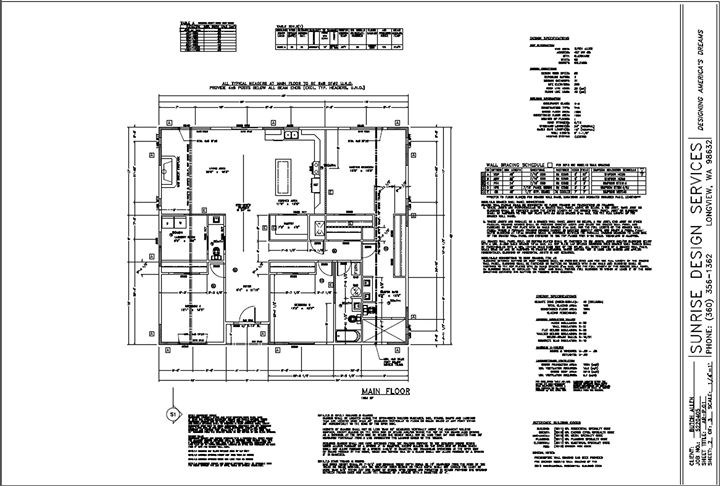 Typical Floor Plans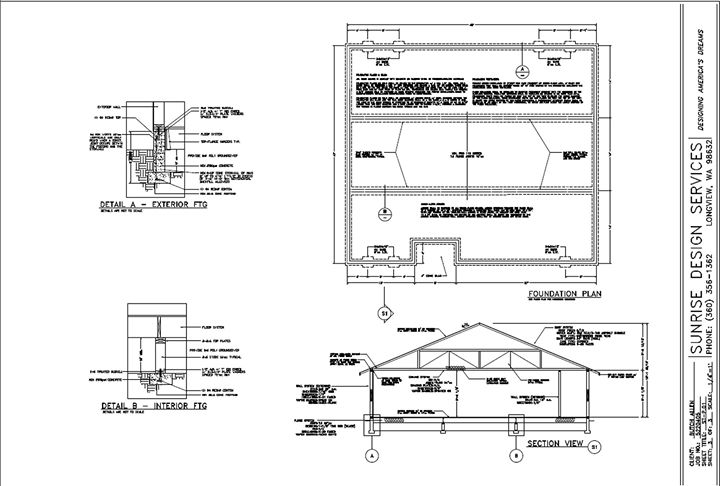 Typical Structural Plans
Simpson Strong-Tie® Products are specified for all structural members' mechanical
connections and Prescriptive Wall Bracing Hold-down requirements.
State Energy Code Compliance for insulation requirements and door & window efficiency
values are designed and specified within the plans using Prescriptive Design methods.
Manufactured Roof-Truss Engineering required prior to plans submittal is the client's
responsibility. Coordination of the plans design and truss engineering is available
upon request.
Plot [Site] Plans required for plans submittal are available upon request, at additional cost.
Plot Plans include the minimum information required for compliance and permitting and
are not to be considered as a survey of the property.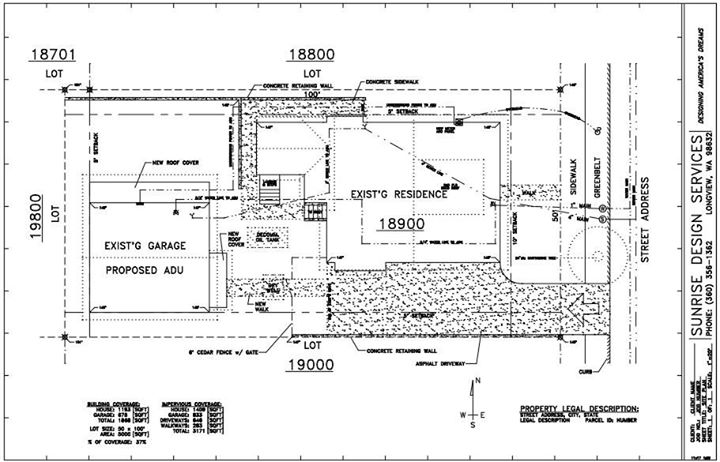 Sample Site Plan [City]
Media & Delivery
Plans are provided at ¼"=1' scale [1:4] and formatted for a 24×36" sheet.
Delivery options include;
[4] sets of Blueprints. Additional sets are $10/each. Shipping& Handling fees apply.
[1] set of Master reproducible sheets. Shipping & Handling fees apply.
[1] set of digital [PDF] files ready to print at your local shop.
Plans are warranted for errors & omissions specific to the plans & design through
permitting and construction. Technical support through construction for onsite changes
and simple structural modifications is included as part of the project. Additional fees
may apply for complex changes and/or onsite construction errors.
Preliminary design work required to establish a concept and square-foot basis for
quoting the plans is provided at no charge. Preliminary plans are typically limited to
floor plan design although some structural and/or elevation design work may be
provided as needed, at the designer's discretion.
With a preliminary design concept, base square footage and quote established, a 50%
deposit is required prior to the commencement of work. The final balance will be adjusted
for any area changes and is due prior to delivery of the completed plans.
Thank you for considering Sunrise Design Services in your future building projects.
We look forward to working with you